Forums are meant for networking, learning and expending your knowledge & experience range within your domain of expertise. This article on the best digital marketing forums is mainly for webmasters, bloggers and marketers to enrich their knowledge and to share their experience with the friendly community members.
This list is not designed in ascending or descending order, every community has it's own unique members, features, topics, expert minds and so on. Hence, check out this whole list of digital marketing communities and join based on your need and purpose. Hopefully you will love these mastermind marketing forums…
---
List of Best Digital Marketing Forums
---
#1. Warrior Forum
Though it's not the largest digital marketing forum in size or traffic but this is the best one for all types of marketers, bloggers and webmasters due to it's neutral nature and strong moderation team. This forum offers both free and premium section for over a million mastermind marketers. You can also sell your services as well as by services of other marketers via marketplace section, from this community of brilliant minds.
#2. BlackHatWorld
By far BlackHatWorld is the largest digital marketing forum with over 6 million monthly visitors and over a million members. You can call this all-in-one place for marketers as you can share knowledge, get help, buy services, sell services, acquire clients form this single community. You can find lots of exclusive tools and services which are pretty unique to this forum only. If you are focused on black hat and gray hat SEO then this forum will be your heaven.
---
#3. STM Forum
Do you want the zest from the top masterminds and avoid all the bullshits from newbies? Then STM Forum is the place you must join and build network. This premium group will charge you only $99 per month and in return will give you access to top minds of digital marketing world such as Charges Ngo, Neil Patel and lots of hidden masterminds.
---
#4. Digital Point
SEO expert like Rusty Brick is one of the most dedicated and active member of this group. This group is equipped with tool section, marketplace and advertising option for your services. This digital marketing forum with over half a million monthly traffic is definitely good and less gathered space to build your network within the marketing community.
---
#5. affLIFT
Here is another premium marketing community for immense amout of value and actionable information. It has directory and traffic guides to help both the beginners and the experts to start with. If you are a dedicated affiliate marketer then this group must be in your choice list because all the members of this forum are fully focused on affiliate marketing.
---
#6. WebmasterWorld
This is more of a webmaster forum to discuss on general topics from browser to latest SEO trends. In case you have tech blog and need to build network with smart minds then this forum is a good choice to get started. There are lots of free (but basic) tools and guides on marketing, SEO, technical issues etc which can help any beginners to move ahead on the right way.
---
#7. AffiliateFix
AffiliateFix is comparatively small and friendly group of people who work and discuss on trendy and working stuffs of affiliate marketing world. You can also find many tools, ad networks, services etc providing discounts and deals for the members of this marketing forum.
---
#8. v7n
Another all over digital marketing forum that has discussion on almost all the topics from starting a website to getting leads. Though it's design looks pretty old and buggy but you could find some gems in this group due to having some active and expert marketing minds.
---
#9. W Junction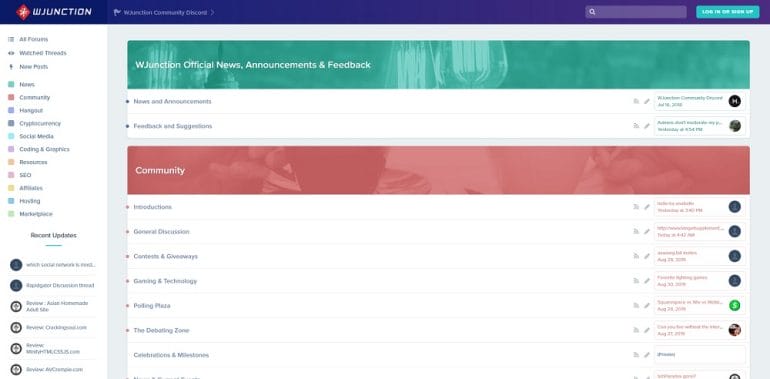 This is a clean and beautiful looking forum for webmasters with over 300K active monthly browsers. Topic of this forum ranges from coding, crypto currency, hosting to generating sales via affiliate marketing. So, this community contains diversified minds from all the sectors.
---
#10. Wicked Fire
This group with over 200K members was a king once upon a time, though it has lost it's popularity but not dead yet. You can still browse the threads and find highly valuable marketing gems within this forum.
---
#11. Moz Q&A Forum
Who haven't heard about Domain Authority? Everyone within digital marketing space know about this website metric. The creator of "Domain Authority" term itself has a forum which mainly works like a Question and Answer site (such as Quora) rather than a discussion based forum. You can ask any kind of SEO related question and get reply from expert minds who work at Moz.
---
#12. CPAElites
Are you a fully dedicated CPA marketer? Then forget about all other forums and join this one. With over 70K active browsers CPAElites became the largest CPA Marketing forum in the world. You can learn lots of new techniques and strategies to promote CPA offers as well as know about new CPA offers and networks.
---
#13. NamePros
NamePros is solely dedicated for marketers who are actively buying and selling domain names. This is the largest community of domainers in the world with over half a million visitors every month. You can also ask for appraisal in case you don't know the actual value of the domain that you are willing to sell.
---
#14. WebHosting Talk
Hosting is like the house of any online entity and WebHosting Talk is the largest forum on hosting related discussion. You can have any kind of information that you may need to setup your server, getting a new hosting, error on hosting server and so on. You can also find latest hosting deals in this forum and save your money on your hosting server purchase.
---
#15. Ozzu
Ozzu is a webmaster focused forum just like Webmaster World and has lots of discussion on technical stuffs. This community is more related to tech freaks than to marketers. However, if you are running any tech blog then hop on to this group and find ideas and problems to create new contents.
---
#16. Webicy
Webicy is dedicated to SEO and marketers which has separate threads on PPC, Blogging, Affiliate marketing, SEO, display advertising etc. This is one of the complete digital marketing forums that has separate sections for almost all the marketing channels.
---
#17. eWeb Discussion
eWeb Discussion has targeted both the marketers and non-marketers group such as graphics designers and coders. You can share and gain knowledge of almost everything that are somehow related to online world from this single community.
---
Honestly, it's very tough to gather such amazing list of digital marketing forums and communities that are active and contains top notch minds as moderators or contributors. I had to dig deeper to create this list, hence surely I deserve a nice share, don't I?
My comment section is always open for you to share your feedback, advice or opinion. Did I miss any forum that deserves to be listed above? Then let me know via comment or send me a quick mail.