Around 83% of the total world's population have smartphones and they use social media more than any other app. At the present, most businesses are acquiring customers and making transactions via social platforms which is why hiring social media managers became crucial for business growth.
Social media management requires attention, up-to-date knowledge, and an understanding of the user's mindsets to reach more potential customers. In order to make social media management efficient and effective, there are numerous tools that are very popular among the social media managers. Though all the below mentioned tools have the standard features like scheduling posts, managing captions, posting on different social profiles, getting performance analytics etc but every tool has its own strength which you will find by reading detail of each.
You might get confused about which tool to use for your business. To make it easy for you, here goes our hand-picked list of the best social media management tools for small business.
1. ContentStudio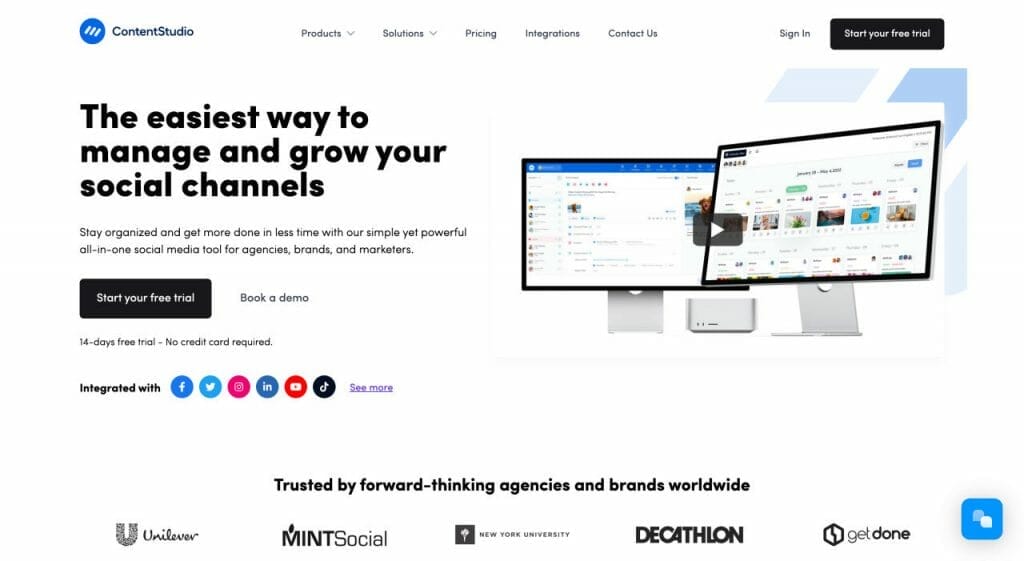 ContentStudio is a powerful tool that comes with a content discovery feature that can help you to find relevant contents to keep your audience engaged on social platforms. A number of articles on different niches are suggested by the tool which you can share on your social media to keep your audience tuned with your channel.
But what if you want to give article posts a next-level look? Don't worry then. ContentStudio has image editors like Canva and Vista create through which you can design interesting graphics.
Pros
Find social media influencers in any field
Spy on influencer's and competitor's strategy
Save most used replies to avoid repetition
Fast and Easy content sharing with the chrome extension
Cons
Facebook stories, Instagram stories, and Tik Tok are not available
Customer support might be slow
Pricing of ContentStudio starts at only $25 per month but you can…
---
2. PromoRepublic
PromoRepublic helps you know your customer feedback through their reviews, gathered from around 130+ sites. Get to know which type (positve or negative) of reviews they are giving to your service. In addition, PromoRepublic is very powerful at getting data for local businesses and manage social postings from a single dashboard.
To leverage your following, this tool informs you about the sentiments of your audience through their mentions across social media platforms so you will what they are talking about your content. Do they like your posts or not?
Pros
Perform local SEO for more exposure among local areas
Monitor all activities of multiple locations and social profiles from a single dashboard
Create local citations and directories
Get ideas about which type of content to post (motivational, educational, humorous, etc)
A vast number of customizable templates, especially for events
Cons
Only supports the English language
Edit and use the available templates since there is no option to create a new one
Pricing of PromoRepublic starts at $59 per month but you can…
---
3. Sprout Social
Sprout Social assists you in delivering professional and timely customer service to the consumers along with posting eye catching social posts. When you respond to the users just after they message you, they are more likely to get satisfied and convinced by your services.
On Instagram, you can add a visual and clickable landing page in the bio to showcase your website.
Targeted advertising campaigns can also be done along with constant monitoring to make any necessary changes in the plan.
Pros
Find and reach relevant audiences according to their age, location, gender, and much more specifications
Publish content right from the mobile
Create chatbots that give 24/7 customer support
Cons
It doesn't deal with the Arabic language
Data analytics are limited
Pricing of Sprout Social starts at $99 per month but you can…
---
4. Later
Other than usual social media posting, this tool gives the option to add link in your bio with modifications to drive more traffic and conversions to your business.
Top and relevant hashtag suggestions on the basis of their performance is another advantage you can get from this tool, just add them to your posts, get found by the users, and acquire additional traffic.
Pros
Manage Instagram reels, schedule them, and view performance data
Get AI-generated captions
Track the conversions from different links
Cons
Instagram stories cannot be edited
Pricing of Later starts at $18 per month but you can…
---
5. CoSchedule
If you have a website, you can share content directly, from your site to the social media through CoSchedule. Very beneficial when you are short on time.
In addition to that, it has a chrome extension that allows you to write proposed headlines whenever you are on the internet, even on WordPress.
Pros
CoScehdule has a special feature Headline studio that suggests SEO-optimized headlines by combining synonyms and high-volume keywords
It shows you 25 versions of a single headline
The calendar can be modified, you can add or remove some options
Get suggestions about the topics that are more appealing to your audience.
Cons
Cannot select thumbnails for video posts
Previewing of the post is not possible
Pricing of CoSchedule starts $39 per month but you can…
---
6. SocialPilot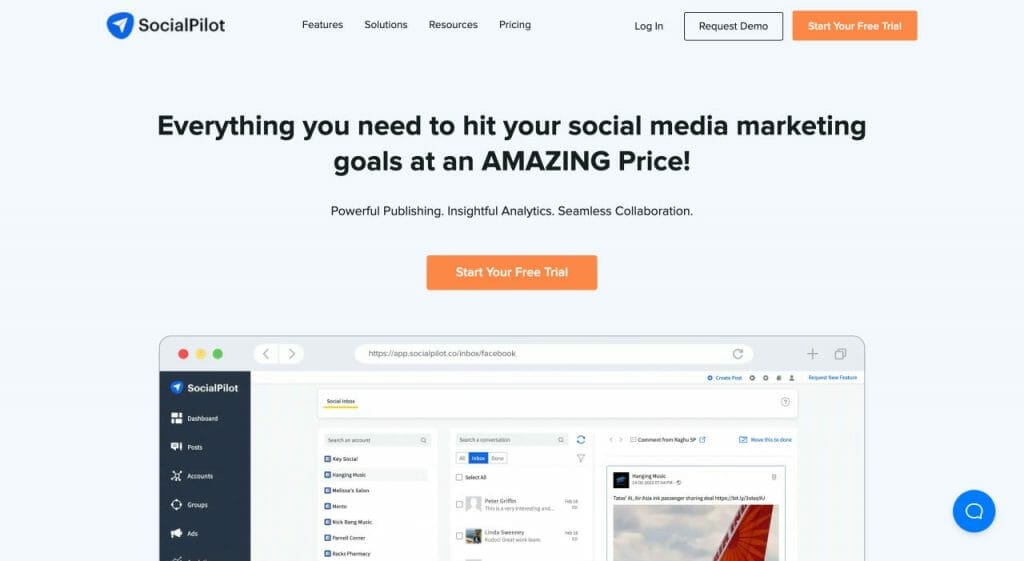 SocialPilot is another addition to the best social media management tools for small business that is ideal for managing all of your conversations from a single place. You can receive and reply to the messages, reviews, comments, etc. Emojis and Gifs can also be added to make conversation informal and fascinating.
In addition to that, this tool provides deep analytical data about your performance by which you can understand your strategy more straightforwardly.
Pros
500 posts can be scheduled in a calendar at a time
CTA can be added and customized for each post
Youtube videos and shorts can be shared on your feed directly, with the option of thumbnail editing
Cons
You'll have to edit each post individually for every channel
Hashtags cannot be saved and have to be entered every time
Pricing of SocialPilot starts at only $30 per month but you can…
---
7. Sendible
Sendible performs the function of a basic social media management tool that recommends different types of content which you can publish on your channels to get followers. The posts can be edited and designed by an image editor which also provides the option to create graphics for the blog.
To help you get the attention of your target audience, Sendible tracks competitor's mentions so that you can participate in the conversation and spread your brand awareness where possible.
Pros
Measure hourly/daily response time to make your service stronger
Detailed profile information of the follower
On the basis of analytics, it tells you which platform suits your business. Earn more traffic by confining to certain platforms
Cons
IGTV (long videos on Instagram) cannot be posted
Unable to schedule Tik Tok and other short videos
Pricing of Sendible starts at only $29 per month but you can…
---
8. Buffer
Buffer emphasizes content engagement and conversations. Good customer service is what they focus on most due to the fact that it saves your time by spotting the primary messages for you so that you can reply only to those who actually need to be.
In this way, you will hardly miss any important message from your audience and they will be satisfied with your service.
Pros
Suggests the best content type (visual, text, video, link) to help you get organic reach
Notify you about comments you haven't replied yet
It identifies the sentiments (question, negative response, comment) of a message itself
Cons
The feature of cropping a picture is missing
Instagram posts and Tik Tok can only be published through reminders
Pricing of Buffer starts at only $6 per month for each channel but you can…
---
9. Crowdfire
Crowdfire being another tool that can be considered as one of the best social media management tools, provides special services. This includes the management of Youtube, Shopify, or Etsy store, and your blog posts.
If your business is more active on these platforms then crowdfire should be your priority since any blog that is posted on your website or any video that is uploaded on your youtube channel will appear here and you can do sharing on social media with just one click after making some changes in the posts for each platform.
Pros
Crowd fire recommends you to like and follow some specific people which increases your following
You can add clickable links to your posts
It recommends high quality images with certain hashtags
Cons
In the free version, Pinterest is not added
Google my business cannot be connected
Pricing of Crowdfire starts at only $9.99 per month but you can…
---
10. HootSuite
Hootsuite is by far the most famous social media management tool that provides key features to schedule your posts for multiple accounts. It keeps you updated about the content that has gained much more volume than other ones, to help you know what content your audience likes.
You can also snoop on your competitor, your customer, and trends to make viral and trendy content and stand out from the competition.
Pros
Its free version allows you to schedule 30 posts/month
Plan a post even months ahead
Data about customers needs are also provided
Cons
Only one user in a professional package and 3 in a team package which may be costly for small businesses
Unable to schedule Instagram reels
Pricing of HootSuite starts at only $49 per month but you can…
---
11. Pallyy
Pallyy is an affordable social media management tool whose interphase makes it less complicated to use. A significant quality of Pallyy is that you can save posts in drafts while editing which doesn't let your efforts go wasted when you have to leave the work before completion.
Its free version allows you to publish 15 posts/month on Instagram, Facebook, Twitter, Linkedin, Google my business, Pinterest, and Tik Tok.
Pros
Its premium version is so affordable in which you can do unlimited posting
You can select the size of posts (square, landscape, portrait, etc)
Have a look at what pages your followers are visiting on LinkedIn
Thumbnail can be selected from inside the video
Cons
Pallyy doesn't run smoothly on a mobile phone
Images in PNG format cannot be used
Pricing of Pallyy starts at only $15 per month but you can..
---
12. SocialBee
SocialBee provides common management activities like post scheduling and sharing along with captions, hashtags, and emojis. It helps you reach relevant followers to which you can convey your brand message, so then, they will be more likely to follow you.
Another great advantage provided by this tool is that you can divide your content into different categories, even you can make calendars categorically. Analytics about which category performed well are also available.
Pros
Create various versions of a post
Set the number of how many times a post has to be published and then expire
Zapier, Buffer, and Hootsuite are integrated
Its Concierge services include social media marketing and management that are provided by its team at a specific cost
Chrome extension to save articles you like
Cons
This tool might be a little confusing to use
UI is not updated as other tools
Pricing of SocialBee starts at only $19 per month but you can…
---
13. AgoraPulse
Agorapulse is another convenient business page management tool that helps you control your conversations even from your mobile. Reply to comments, messages, and reviews, wherever you are.
These messages are received in chronological order (time-wise). So that you can identify which one to focus on first.
Pros
Facebook and Instagram profile management
Label messages to get to the main ones
Design video thumbnails
Cons
This tool is quite glitchy and has some bugs
Twitter's engagement data is not available
Pricing of AgoraPulse starts at only $99 per month but you can…
---
Just done with the list of best social media management tools for small business. Every tool has its own benefits along with some disadvantages but is created to lessen your burden. Have a look at the pros and cons of the tools and decide which one suits perfectly for your small business.