Pinterest is the most underrated marketing channel over the internet. Many of the marketers, bloggers, and business owners do not have any idea about the power of Pinterest Traffic which can blow their websites and bring massive revenue.
Though Pinterest is positioned way below in terms of total users compared to the top social platforms like Facebook, Twitter, Youtube, WhatsApp etc. due to having only 300 Million monthly active users. However, this platform has become the 4th most popular social network in United States outranking LinkedIn, Twitter and WhatsApp.
I love Pinterest due to it's openness towards the content creators. It doesn't have bullshit filters like Facebook and Instagram which limits the content from reaching the followers and other targeted audience. On the top of that Pinterest's new design is focused on driving traffic to the source website.
---
Step by Step Pinterest Traffic Driving Methods
---
Let's start with the actionable methods that you can use to drive big chunk of traffic to your website or blog from this female dominated social platform.
#1. Setup Eye Popping Profile:
As usual, my guide starts with setting up the best profile that you can because this is the root of your Pinterest account. Complete below check list in order to get the max from your profile.
Put good looking profile picture of yours or the logo of your website based on what type of account you are willing to operate.
Set the profile name strategically with keywords. How? Suppose your name is Michel and Your site's name is EzeePizza.com where yo do post about pizza recipes. In this case you can go for name like "Michel – Read my Pizza Recipes at EzeePizza.com". This name contains the keyword pizza recipes along with your name and site's URL.
It's highly recommended to verify your website or blog from Settings > Claim > Claim your website.
MOST IMPORTANT one, convert your personal profile into a business profile which will allow you to have a better profile interface along with access to analytics dashboard.
Write a nice display name (similar to profile name but for business profiles) and about description in order to complete your Pinterest business profile.
#2. Create and Optimize Boards: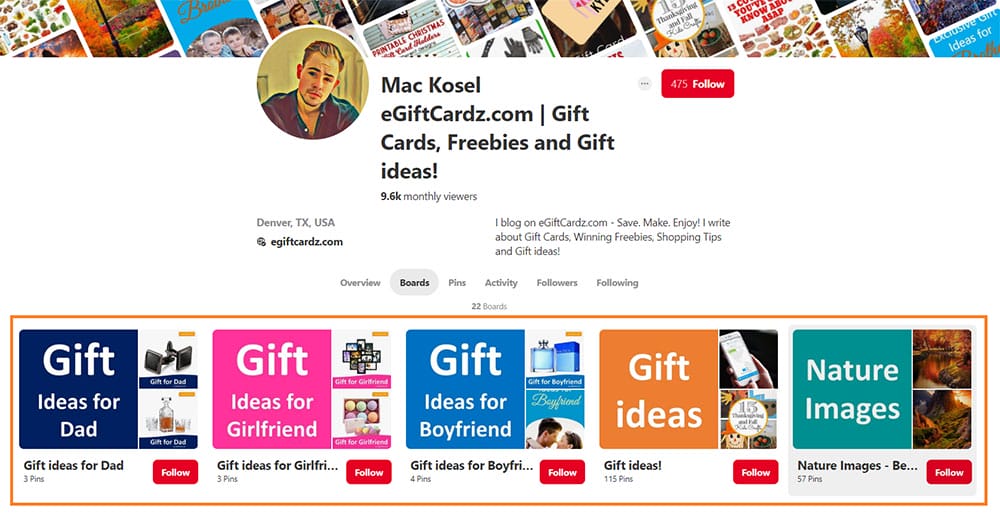 Board creation is one of the most important task that you MUST do well before expecting good amount of traffic from Pinterest. Boards work like the categories of a blog or eCommerce site. So, Take your main topic and break it down into sub topics, then create boards for each sub topic of your website, blog or eCommerce. Follow below rules to create superb boards:
Find out a Keyword for your sub topic and use it to name your board. So that, your board can be found on both Pinterest and Google search results.
Write a description for your board that has the keyword in it and select a category to make it clear and easy for Pinterest to understand the topic of your board.
You can design your boards just like shown in the picture above to make the board more attractive and organized. Create a picture that represents the topic of your board and make it the featured picture.
Note: You can create in total 500 boards from a single Pinterest account.
#3. Make Pins in the Right Way:
You can make a pin from a link or via direct upload along with pinning (formally known as Re-pin) from other existing boards. In case of pinning from other boards you just need to press the pin button and select a board, that's it. This activity will surely improve your Pinterest profile but won't be helpful for driving traffic to your site. Hence, you need to focus on creating your own pins which can be done via uploading new image or from a link of your site that has an image on it. Follow below steps for making useful pins that will increase your website's traffic:
Your pins must follow the vertical image rule of Pinterest. I recommend a minimum ration of 1:1.5 (for example 1000px length and 1500 height), surely you can increase the height of the image as much as you wish.
If your website has vertical images then use the links to make pins else create a vertical image on your device then upload it as a pin for a specific post or page.
Link based pin will scrape the title from source URL but in case of manual upload you must write a title. Make sure you are inserting the major keyword that represents that pin so that people can find it easily.
It's better to write 2-3 sentences as description for better visibility. You can also insert hashtags before the keywords within your description.
MOST Importantly, you need to insert the link of your post or specific page in the pin while you are uploading manually.
So, now you know how to make a pin in the right way. How many pins you need to publish? It depends on your work load, priority and niche. However, you need to keep in mind that you can make in total 200,000 pins. Don't worry it's a big limit, but you need to use it properly in order to get the maximum return from this platform.
Let's come to the point, I would recommend you to make 5-10 pins for your site and 40-50 repins in order to grow your profile. Seems too much? Posting this amount of pins daily will take over 11 years for you to reach the limit. If you are working on board niche or niche that are popular on Pinterest such as health, food, fitness then multiple those numbers by 3-5 times for better growth of your account.
Surely you can delete old pins, so don't panic about the limit.
#4. Follow and Engage Strategically:
Following others is the best way to make others follow you on Pinterest. Pinterest profile with no followers will merely drive any traffic. Hence, growing your follower base must be your primary concern. Use below strategies to build a massive follower base within short time. However, make sure your profile has enough amount of pins (at least 500) before you start following others.
Search for a topic or sub topic of your website. Then go to the boards section.
Select the boards that has the most amount of followers as well as closely related to your topics.
Then go to the follower list of those boards and start following those people.
Here comes the secret tip, make a comment on 1 or 2 pins and make 3-4 repins from each profile before following the person. This tactic will generate multiple notifications with your image and name which will make that person more likely to follow you back.
#5. Collaborate and Cross Promotion:
This is an easy but most effective way of accelerating your growth over this amazing platform. Make some boards that you will collaborate with others, where other people of your similar interest can make pins. You may think, why should you make a board for other!
Look, when a person follows you, it makes the person follower of all your boards. Same rule applies for other people on Pinterest. So, you will get the follower of other board members as the followers of your public board as well. This will fire up the growth of that board.
In the same way, you can also request others for adding you as a contributor which will open a new door for your pins to go viral on Pinterest.
#6. Bring Automation for Scaling:
Automation is the root of all businesses while its trying to scale up. If you are a single person running a website or blog and managing dozens of social profiles then it's a disaster for you. You have only 24 hours in a day, hence you need to learn how to get the maximum return out of those hours.
Leverage or delegating task is the secret of doing more within less time. However, hiring a social media manager is pretty costly but using a tool that does the same work can be cheap.
You can try out social automation feature enabled tools like ContentStudio, Buffer, CrowdFire etc for managing your social profile on automation.
#7. Repeat Your Best:
You may find some of your pins are performing very well compared to others. I am talking about the pins that are created by you for driving Pinterest traffic to your website. In this case, my suggestion is to repin those pins on your other similar boards and public boards that are on collaboration for further visibility. The more eyeballs your pin will reach, the more traffic your website will get. What's next? As you know which pins performed well, you can create more pins that are very much similar and expect to get pretty much same result.
This article may not have a magical bullet to drive massive Pinterest traffic instantly. Because there is no such thing, you need to constantly work in the right way to get long term success. All the tactics are very simple but you need to execute these, to get the expected result.