YouTube is the 2nd largest search engine right after it's big brother Google. On the top of that, video is becoming the most popular form of content that people are eager to consume more and more in the upcoming days.
If you are a marketer or even a solo blogger and willing to step into to the world of video then article to video converter software is the perfect weapon for you to push you ahead of many others. You may not have enough confidence to show up in the video or you may lack the skill to create professional videos, but don't let that be the reason of legging behind. There are many tools that a marketer or regular blogger can use to turn their articles into compelling videos that people will enjoy to watch.
In addition, converting your articles into videos will open your door to a new pool of audience as well as help to rank well in Search Engines by increasing authority. This article will walk you through step by step process of creating videos from articles almost instantly using the best article to video converter software that is available.
1. Pictory
Turning your articles into videos has never been so easy and fast before the introduction of Pictory. I must say, Pictory completely nailed the method of creating videos out of blog post with just few clicks. Within less than 2 minutes I got a complete HD for one of my articles while testing out this mind blowing software.
You can also edit, add or remove any elements from the video based on your preference. No matter you are starting out new Youtube channel or looking for easy ways to ramp up video production for your existing channel, Pictory got your back. Just try out the free trial version and get amazed.
2. Invideo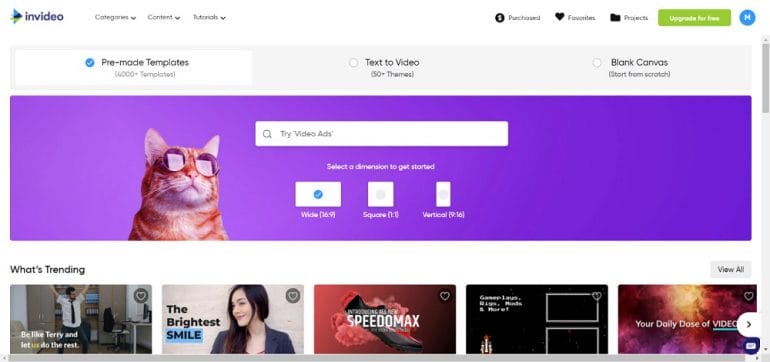 InVideo is revolutionizing the creation of engaging videos on the go with its easy to use online video creator software. I have been using Invideo for over 7 months and amazed by the features and elements it has. Invideo has a dedicated feature to convert articles into videos named "Text to Video" which is mind-blowing. You can edit and finalize the video after being created or you can also start with a blank canvas to create the video with drag and drop elements.
Moreover, you have access to thousands of pre-made templates to turn your articles into social videos or even promotional videos within few minutes. I must say, if you are not using InVideo to create videos, you are missing the cutting-edge technology of online video creation tools.
In addition, you can enjoy the full functionality of an advanced video editor without even having a high-end PC which makes this piece of software outstanding. However, it has its own cons such as slow progress during heavy editing due to being internet speed dependent. Try out InVideo's trial version for free as your article to video converter software and thank me later.
3. Lumen5
Lumen5 also comes with a dedicated article to video converter features that pretty easy to use. What I love about Lumen5 is its really simple-looking interface which makes video creation easy as posting an edited picture on Instagram. Lumen5 will be best if you are looking to create simple and small video clips which represent your article or any small topic.
We all know that nothing is 100% perfect and hence you may miss advanced video editing functionality on Lumen5 but will love the simplicity. Lumen5 will never disappoint you regarding converting your articles into videos with a snap of finger.
4. Wave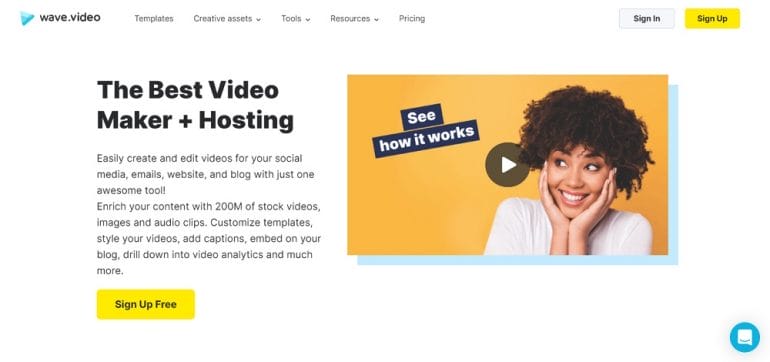 You may think of Wave as a video focus handy tool just like Canva that can be used even by a 8 year old kid to create stunning short video clips. You can easily turn your text-based content into eye-catching videos with the huge library of images, clips, and sounds that come with Wave.
Apart from creating videos Wave lets you host the videos with its own branded video player and password protection feature. So, what are you waiting for? Get the Wave and start repurposing your articles into videos.
5. ReCreate AI
"ReCreate" the name says it all, you can easily repurpose your articles into videos with the help of its easy to use drag and drop interface. There is a word "AI" with its name and it has its own meaning as well, it's built-in AI can change the color, theme, fonts etc. that suits the topic of your video. Though you might not get the right stuffs all the time but having such extra feature might save your time.
6. FlexClip
Looking for the easiest video creating tool for intro, outro, promo videos and more, then FlexClip is the tool to go for. This online video creator has hundreds of pre-made video templates for quick video creation for different topics such as real estate, corporate, news, education and more. You can also make gifs and record screen with this tool.
7. Article Video Robot
"Old is Gold" but not in this case! Article Video Robot is one of the oldest article to video converter software that's been serving since 2012 and honestly it's still using the old feel, design and type to create videos. This type of video still might work for some niche but for most, I don't recommend it. So, what's the hell this software doing here? This piece of software is created solely for the purpose of turning your contents into videos, hence I thought not including this would be an injustice.
8. Viomatic
Viomatic will turn your articles into videos by itself, yah you don't need to do anything such as post-editing or fixing color. I think it's a manual job in the shape of an automatic task for the end-user. Viomatic is like a video creation agency which takes your instruction and creates video for you within a short period of time.
We came to the end of this list and the moment of choosing the final software for turning your text-based contents into videos. All the above-mentioned tools have their own pros and cons based on the situation and need.
In my opinion, InVideo is a great one if you are looking to have all the features of an advanced online video editor tool along with millions of images, videos, clip arts etc. If simplicity is your goal then Pictory will be much more handy software as your article to video converter tool that works from anywhere.
Did I miss any awesome piece of video creation software? Then please do mention the name in comment section so that I can include that on the next update.